Made in Taiwan (MIT) AC Centrifugal Fans Size:Ø250x94mm ■ACF25094-DA■
Model No.

ACF25094-DA

Made in

Taiwan
Made in Taiwan with high quality Rohs compliance with reliable fan manufacturers, combined with low noise and low vibration, high cooling effect, energy saving and many other advantages, with anti-burning device and low electrical interference function; and quick delivery , A small quantity order and customization is that we provide you with the intimate service.
Spec
Type:Fan,Heatsink
Use:Computer Case
Key Features
High Reliability, Low Noise and Low Vibration, High Cooling, Energy Saving, High Quality, customized
(1) Low Noise and Low Vibration
Stable usage of fan motor with excellent low noise and low vibration aracteristics.
(2) High Reliability
High accuracy ball bearings and sleeve bearings unit resulting in high reliability and long life.
(3) High Cooling Result
High airflow and high static pressure for the equipments.
(4) Energy Savings
Low current and low power consumption reoucing costs.
(5) Anti-Burnout Device and Low Electrical Interference.
An automatic safety device shuts off the current when the fan is prevented from running. The flux leakage is so little that the fan may be positioned near a video display terminal.
(6) Rohs Compliance.
All products have Rohs compliance.
(7) Quick delivery.
(8) Made in Taiwan (MIT).
World-class production technology and equipment.
(9) Small Quantity Order
We accept small quantity orders.
(10) High Quality
We guarantee high quality products.
(11) customization
We can provide customized service according to customer's requirements.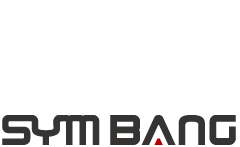 Model No.

RATED
VOLTAGE
(V)

FREQUENCY
(Hz)

RATED
CURRENT
(A)

INPUT
POWER
(W)

SPEED
(RPM)

MAX. AIR PRESSURE

MAX. AIR FLOW

NOISE dB(A)
@1M

inchH2O

mmH2O

CFM

m3/min

ACF25094V1H2P-DA

115

50/60

0.90/1.23

103/142

2600/2800

2.09/2.64

53/67

570/610

16.13/17.26

76/78

ACF25094V2H2P-DA

230

50/60

0.48/0.66

106/148

2600/2800

2.09/2.64

53/67

570/610

16.13/17.26

76/78

IMPELLER
BEARING
INSULATION
TERMINATION
OPERATING TEMPERATURE
INSULATION RESISTANCEDIELECTRIC STRENGTH
MOTOR TYPE
SAFETY
WEIGHT
ROHS COMPLIANCE
IP LEVEL

Plastic
Ball
Class F
Lead Wire
-20°C to + 70°C
10M Ω min. @500 VDC
1,800 VAC for 1 second
AC Induction Capacitor Motor
Thermally Protected
2.09 kg
Yes
IP54 (Special IP Rating On Request)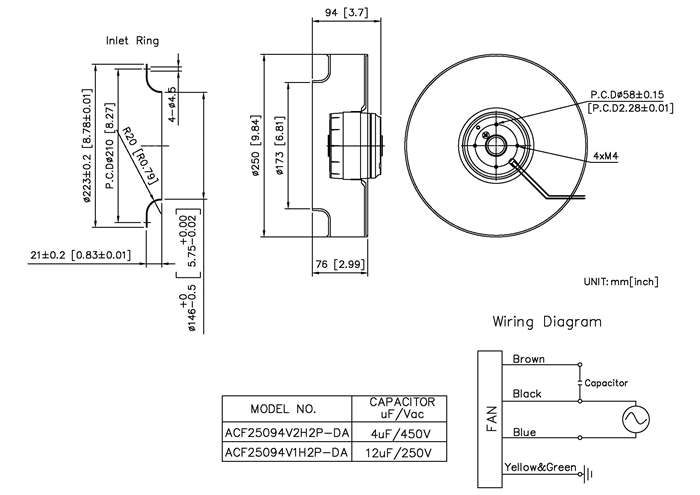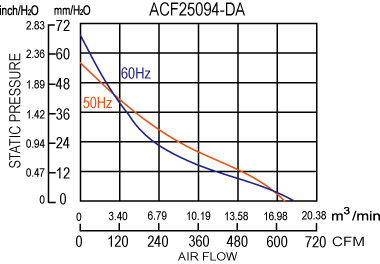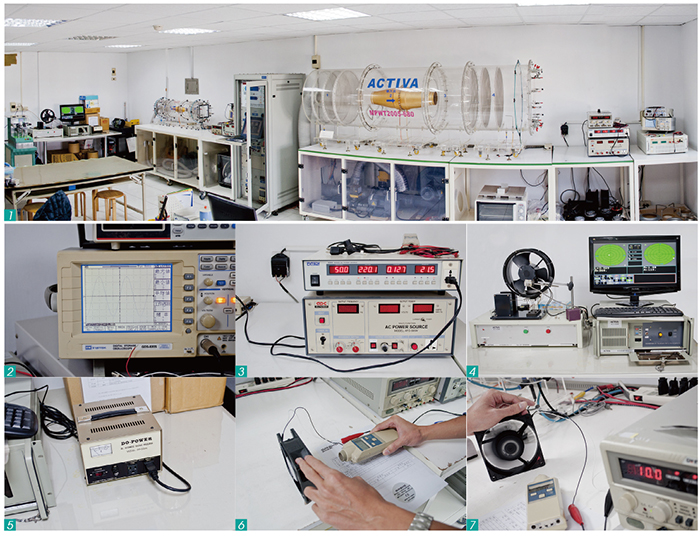 | | |
| --- | --- |
| 1 SYMBANG Testing System | 4 動力均衡試驗機 Digital Dynamic Balancing Machine |
| 2 數位儲存示波器 Digital Storage Oscilloscopes | 5 AC Power Supply 6 數位轉速測試儀 Tacho Hitester |
| 3 AC Power Supply | 7 DC Power Supply Testing Speed (RBM) |

Applications:
Power Supply Units
Measuring Instruments
Electronic Switch Systems
Automatic Vending Machines
Air-conditioning & Heating Apparatus
Computers (CPU, Peripheral&Terminal Equipment)
Medical Equipment
Acoustic Equipment
Flight Instrumentation
Numerical Control(NC)Units
Data Communications Terminal Equipment
Office Machinery Appliances&Copying Machines
Main Export Market
Canada ,Korea, South Korea ,Russian Federation ,United States
Payment Details
Payment Terms:TT ,L/C ,PayPal
Minimum Order:1 Pieces
---
You may also like
Recommendations
---
Small Order Recommendation